Covid-19 Safe Practices & Policies
Welcome to The Beacon Waterfront Inn!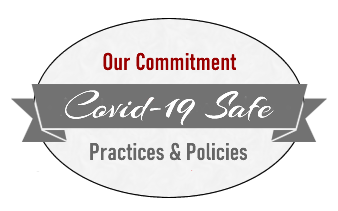 During these challenging times we are working hard to create an environment where you can feel safe and comfortable during your stay with us. Below you will find a list of practices that we are engaged in to best protect you, our guest, as well as our employees during this time of Covid-19.
We are also including a list of policies that we request of each of our guests to ensure the health and safety of all who frequent our Inn.
Thank you for your understanding and participation as we work together to stay healthy and enjoy life during a particularly difficult time.
~ from All of us at The Beacon
GUEST CHECK- IN AND CHECK- OUT
Although we would prefer to personally welcome our guests, we have instituted contactless check-in and check-out in an effort to follow current physical distancing guidelines. However, we are always here for you if you should need us.
On the day of your arrival, you will receive both a text message and an email with the access code to the front entrance. You will find an envelope with your name on it on the kitchen counter with your sanitized room key.
All charges are pre-paid, so there is no need for settling any balances at the end of your stay. Guests are asked to leave the key in their room when checking out.
STAFF
Each of our employees has received extensive training in cleaning procedures, which includes the frequent sanitizing of all common touch areas such as counters, doors, floors, lamps, light switches, tables, chairs, and couches, for example.
All employees wear masks, and where needed, disposable gloves, and are instructed to wash hands frequently while at work.
At all times we practice physical distancing, maintaining a 6-foot perimeter from all others.
GUEST ROOMS AND HOUSEKEEPING
Each of our rooms are thoroughly cleaned and sanitized prior to guest arrival. All surfaces, furniture, and amenities are sanitized. All bed linens and towels are laundered at the hottest sanitizing setting.
Once your room is cleaned and prepared, no one enters the room prior to your arrival.
To minimize cross-contact of surfaces, daily housekeeping service will be discontinued at this time. This will minimize staff need to access guest rooms during your stay. Trash and soiled towels can be left in the room or bathroom and will be picked up daily. We welcome you to request any amenities and supplies that need to be replenished during your stay.
When arriving at the Inn, you will find antibacterial hand sanitizer, and disinfecting wipes in your guest room for your use.
COMMON AREAS
Common areas including seating, living, and dining rooms and hallways will be cleaned and disinfected more frequently throughout the day. Special attention will be paid to high touch surfaces such as bannisters, door handles, chair backs, etc.
Hand sanitizer and wipes will be available in common spaces.
Signage will be posted throughout the inn to reinforce new practices.
FOOD SERVICES
At this time, we will not be serving breakfast.
GUEST POLICIES
We request that guests wear a mask when in close quarters with other guests and our staff.
We ask all guests to practice physical distancing while enjoying our property.
Guests are encouraged to wash hands frequently.
COVID-19 Travel Advisory
Effective March 22, 2021, all visitors and returning residents entering Massachusetts are advised to follow the Commonwealth's new travel advisory as detailed below.
https://www.mass.gov/info-details/covid-19-travel-advisory
As of Monday, March 22, all visitors entering Massachusetts, including returning residents, are advised to quarantine for 10 days upon their arrival. Travelers in the following categories are exempt from this quarantine advisory:
Travelers who have received a negative COVID-19 result on a test administered not more than 72 hours prior to their arrival in Massachusetts. Travelers may also test out of the quarantine advisory after arrival in Massachusetts, as long as they quarantine until receiving a negative test result.
Anyone who is entering Massachusetts for fewer than 24 hours
Anyone who is returning to Massachusetts after being out of the State for fewer than 24 hours
Workers who enter Massachusetts to perform critical infrastructure functions (as specified by the Federal Cybersecurity and Infrastructure Security Agency) during required commuting to or from work and while at work.
Travelers who are fully vaccinated (i.e., who have received two doses of either the Moderna or Pfizer COVID-19 vaccines OR who have received a single dose of the Johnson & Johnson vaccine, 14 days or more ago) and who do not have symptoms.
All travelers are encouraged to consult and follow the CDC's guidelines and requirements for travel.
In the interest of safety for our guests and staff, and in working together to help slow the spread of COVID-19, we require all guests to agree to comply with this travel order upon making reservations.