Private Residence Overlooking Nantasket Bay ~ Group Stays
MUST CALL TO BOOK THE WHOLE HOUSE ~ 781-925-0707
15 guests · 6 bedrooms · 8 beds · 4 baths
The Beacon Luxury Waterfront Inn can be rented as a "whole house".
Our lavish accommodations with elegant interiors and designer furnishings are ideal for family gatherings, wedding parties, office retreats, and other private events.
This beautifully maintained, expansive property overlooks Nantasket Bay and provides the perfect opportunity to relax and recharge in style.
While we can't accommodate large parties or weddings, we are the perfect place to get all of your loved ones under the same roof! 15 people max.
Visit our photo gallery to view all the whole house has to offer.
From $1,000 to $2,500 per night, based on season.
The Perfect Location
The Beacon Waterfront Inn is just 20 miles south of Boston, with easy access to public transportation, the Town of Hull starts with us!
We are close to The Launch at Hingham Shipyard as well as beautiful Cohasset and Scituate Harbors.
Just a quick drive or short walk to Nantasket Beach, award winning restaurants, the world famous Paragon Carousel, and the DCR Nantasket Beach Reservation.
There is also nearby golf, the South Shore Music Circus, and other great historical attractions within minutes.
Across the bay you will see the Steamboat Wharf Marina, the famous Paragon Carousel, and the award winning Jake's Seafood Restaurant.
Nothing is too far away in the quaint, but lively seacoast town of Hull.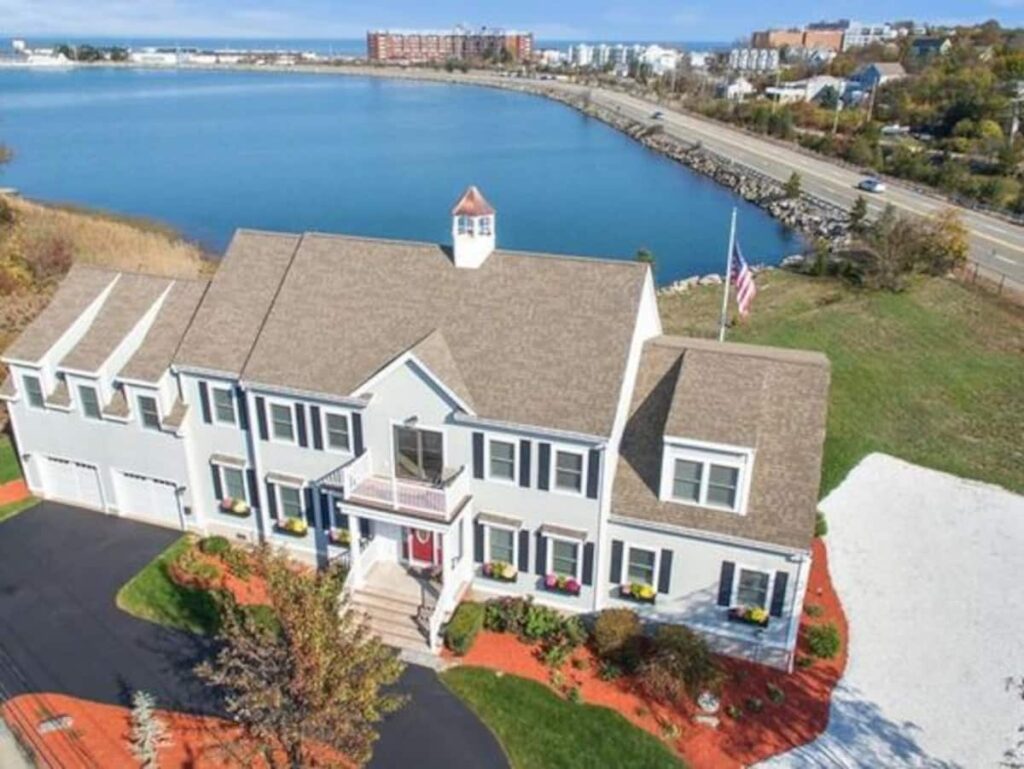 January 2022
Jon & Stefanie were awesome hosts. Their place is amazing. The girls weekend was simply beautiful. relaxing yet convenient. Impeccably clean, comfortable and inviting. We'll definitely be back!
Emma
December 2021
Great spot for a large group! The suites were especially perfect for those of us who had kids with them and the downstairs was great for everyone to gather.
Damaris
December 2021
Beautiful place for agate away with family..very clean..beautiful (Website hidden by Airbnb) familt and friends loved the place..
James
September 2021
Amazing home with a great atmosphere and wonderful hosts!
Ellen
August 2021
The Beacon is a lovely property! The rooms are large and comfortable and the location is great. Would definitely stay here again.
Anita
August 2021
Staying at the Beacon Inn was a great decision for our large family. We rented the Inn for 6 nights to accommodate family coming in for a wedding. Rooms were very spacious and had all that we needed like linens, towels, and kitchen, bbq, and fire pit amenities! Two of the Suites were nice with private bath. Other rooms share hall bath. Overall, owners were very accommodating and made our stay carefree!
Will
March 2021
This place is lovely in the listing, but you will not believe how spacious the rooms are and how lovely the light is. The hosts are terrific with immediate communication. This house is in a very scenic corner. It was a great experience overall.
Erin
August 2020
This was an amazing rental. It was actually a bed and breakfast and we were able the rent out the entire place. They had a huge common space, a great backyard on the water, and tons of bedrooms to sleep in. We had more than enough space! It was also right near the beach, local shops and restaurants.
Highly recommend!
Hesham
November 2017
Our stay at The Beacon Inn was fantastic. Communication with our host was excellent every step of the way and Jon was incredibly kind and accommodating. The Inn itself was spotless, beautifully appointed, warm, and very comfortable. We also had very easy access to Cohasset and Hingham and there was a lot to do, even during the off-season when we were there. If you're in the area and have a large group like we did, this is definitely the place to stay.
Beth
August 2017
Stephanie and Jon's place is superb. The pictures accurately capture the beauty of the bedrooms, the excellent views over Hull bay and the spacious common rooms. The suites are particularly inviting, with amble room for four…..Jon and Stephanie were exceptionally responsive and helpful throughout the reservation process. Check-in/out was simple….Having been born and raised in Hull, I have a bias to the appeal of Nantasket Beach. If you are looking for a home base to explore the South Shore and Boston, I encourage you to consider the Beacon. The ability to walk to the beach, drive to Cohasset/Hingham/Weymouth/Quincy and ferry to Boston makes the property an ideal home base.
Michael